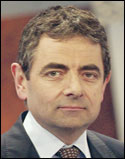 The New Culture Forum has officially joined its voice to the campaign, launched this week, to reform part of the Public Order Act by removing the word 'insulting.'
Currently, under Section 5 of the Act, the police and the courts can decide if you or someone else might feel insulted.
Speaking at the launch, the comedian Rowan Atkinson (right)said it was having a 'chilling effect on free expression and free protest'.
He went on: 'The clear problem of the outlawing of insult is that too many things can be interpreted as such. Criticism, ridicule, sarcasm, merely stating an alternative point of view to the orthodoxy, can be interpreted as insult.'
Former shadow home secretary David Davis said: 'The simple truth is that in a free society, there is no right not to be offended.
'For centuries, freedom of speech has been a vital part of British life, and repealing this law will reinstate that right.'
Gay rights campaigners from the group Outrage! were arrested under the Act when they protested against the Islamist fundamentalist group, Hizb ut-Tahrir, which was calling for the killing of gays, Jews and unchaste women.
Find out more about this important campaign here http://reformsection5.org.uk/
Posted in Commentary login to post comments
Submitted by peterwhittle on Thu, 2012-10-18 16:31.