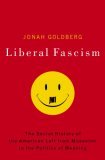 Jonah Goldberg, author of Liberal Fascism: The Secret History of the American Left from Mussolini to the Politics of Meaning, will be the special guest at the NCF's first event of 2009.
He will be in conversation with Douglas Murray, writer, broadcaster and director of the Centre for Social Cohesion.
The event will take place on Monday, January 26th, at 6.30pm in the Boothroyd Room at Portcullis House, Westminster. The book will be available to buy.
"In the greatest hoax of modern history, Russia's ruling "socialist workers party," the Communists, established themselves as the polar opposites of their two socialist clones, the National Socialist German Workers Party (quicknamed "the Nazis") and Italy's Marxist-inspired Fascisti, by branding both as "the fascists." Jonah Goldberg is the first historian to detail the havoc this spin of all spins has played upon Western thought for the past 75 years, very much including the present moment. Love it or loathe it, "Liberal Fascism" is a book of intellectual history you won't be able to put down—-in either sense of the term."  
Tom Wolfe
 Read Dominic Hilton's review of the book for the NCF here
Posted in Future Events 1 comment
Submitted by peterwhittle on Wed, 2008-12-10 12:31.